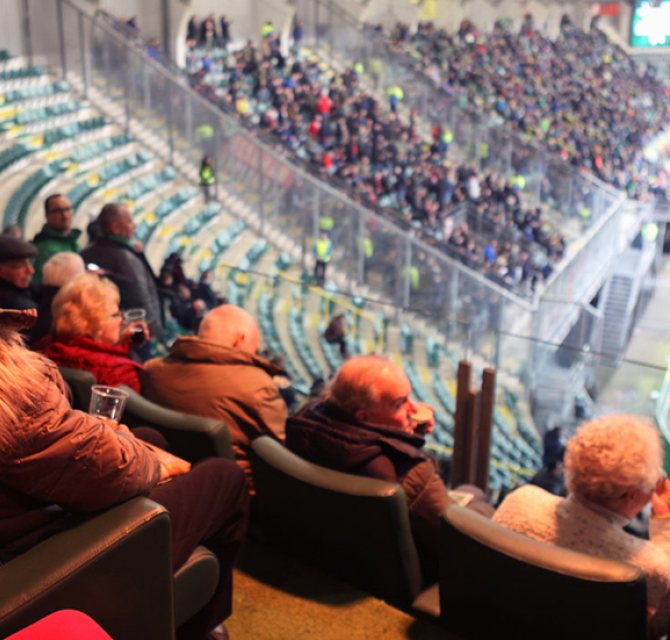 Football against loneliness: seniors visiting ADO
21 February 2023
'Met senioren naar ADO' is a foundation established in March 2017. As the name suggests, it is a foundation with the aim of taking seniors out of isolation. This is done by making an active contribution. Jeroen Workum, one of the founders, explains how the foundation came about; the group of friends Johan, Johan, Robert, Roland and Jeroen had been going to ADO for several years. Through the Dutch television program Geer and Goor, it became clear how many lonely seniors there are. Taking a lonely senior to a match seemed like a good way for them to help lonely elderly people.
Jeroen further explains how this went: "I wanted to ask someone from the care home to go with me to an ADO match. For this, I had bought a second ticket and went to a location of WoonZorgcentra Haaglanden (WZH) to ask if I could bring someone along. This is something that cannot be done just like that. To make this possible anyway, I started volunteering at WZH." This is how the first senior went to an ADO match with the five men (in box D). "Taking someone with you created a sense of fraternisation. This is precisely why saying goodbye after such a day was difficult. 'See you soon' was out of place, because it was not known beforehand whether it would be possible to take the same senior back to the stadium."
Eventually, this initiative kept growing. This included support from ADO, also with the offer of tickets to take (lonely) seniors. The enthusiasm in the care homes also proved to grow considerably. Unfortunately, box D has a high staircase; as a result, people in wheelchairs could not come along. After consultation with ADO, it was possible to move to the other side of the stadium, to the disabled areas.
Then arose a new challenge, since the winter season was approaching. The winter season in particular is a tough period - a period where loneliness plays a major role. Unfortunately, it is too cold for many seniors to sit alongside the field during this period. Along came a very nice solution! They were allowed to use an empty skybox on a number of occasions. During the matches, Vegro (care shop) was sitting in the skybox next door and that's how a conversation started. With the (financial) help of Vegro and ADO, the skybox has now become the very own skybox of 'Met senioren naar ADO'. From here, the initiative has grown into a foundation.  
During the interview, Jeroen shows which adjustments have been made to the skybox to make it accessible for the elderly. For instance, extra seats have been added (even inside) and space has been made for wheelchairs. This means more space for seniors, but also for companions. There is a heater, an extra banister has been made, the bar tables have been replaced with sitting tables, and the toilet has been adapted. These are several examples of the adaptations and show the dedication of the foundation.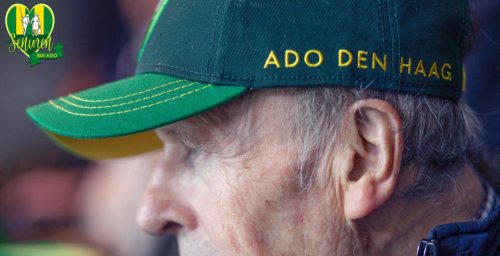 A day out for seniors
Meanwhile, a wide circle of care homes and clubs are involved in the foundation. In this way, it tries to get as many people involved as possible. The foundation tries to make the event as accessible as possible; there are no costs for the seniors. They are picked up and brought home again.
It is a social affair; joining several times is possible. There is also space for carers to come along. People in a care home sometimes have a very good bond with their carer; it is great that such moments can also be shared together.
Jeroen explains what it's like in the skybox: "People enter timidly and you see them leave happy. What I like is handing out the appetisers at half-time, everyone gets all excited then." There have also been special moments where seniors who were able have even been on the field. Further, Jeroen explains: "Not everyone who comes here is a football fan. It's also about the atmosphere to be here." The seniors who join do not have to pay anything for this. So in this way, the foundation relies entirely on volunteers and sponsors, and it remains low-threshold for the seniors.
Toekomst
Jeroen talks passionately about the work the five of them do. "All the time and effort is totally worth it," he says. With this work, they want to ensure connection with seniors, making sure no one is left out and combat loneliness. 
The story of the 'Met senioren naar ADO' foundation contributes to several SDGs, especially SDG 3 (good healthcare for all), but also SDG 10 (reduce inequality) and SDG 11 (make cities and towns inclusive, safe, resilient and sustainable).