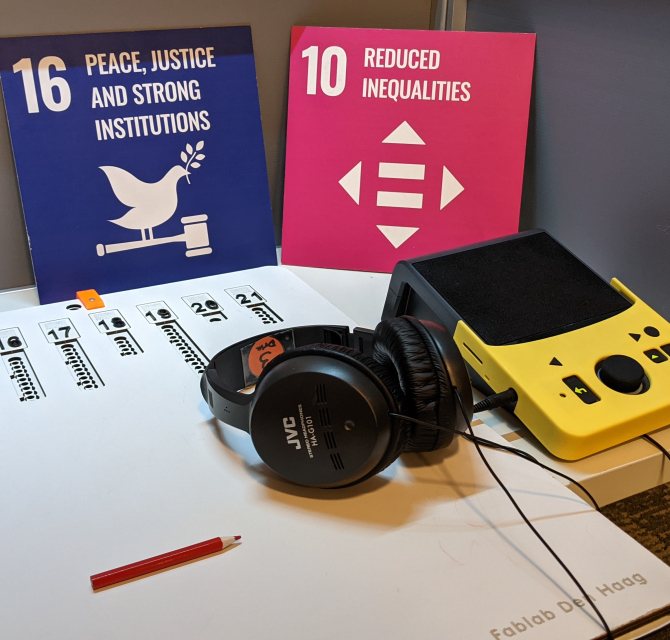 Voting for everyone: what do accessible polling stations look like?
7 March 2023
With just over a week to go until the 'Provenciale Staten' and 'Waterschap' elections, the Elections Unit of the municipality of The Hague is busy with preparations. This includes setting up accessible polling stations. Because casting your vote is not something everyone can take for granted.
Accessibility means that everyone, with or without disabilities, can use facilities, information and services. However, for many people with disabilities, independent voting is difficult or even impossible. For example for people with physical disabilities. But it is important that as many voters as possible cast their vote for a functioning democracy and also for an inclusive society. That is why the municipality of The Hague deploys special resources to ensure that as many people as possible can vote independently. In doing so, the Unit Elections contributes to two Sustainable Development Goals (SDGs). Goal 10 is to reduce inequality and create equal opportunities for all. Goal 16 is to build accountable and accessible institutions.
Audio support, braille and drinking bowls for guide dogs
Jascha van Lith, project officer at the Elections Unit is responsible for making polling stations in The Hague accessible. Preparations begin about six months before election day. All polling stations (over 300) are checked how accessible they are, for example whether there is a ramp for wheelchair users and whether the doors are wide enough. If there the threshold is too high, a ramp will be custom-made. "The vast majority of polling stations are wheelchair-friendly. In addition, there is a polling station in every district with special facilities for blind or visually impaired voters" says Jascha. These facilities consist of an audio-assisted voting template. The ballot paper is placed in the voting template and the holes in the template correspond exactly to the circles for the candidates' names. Each party number is indicated with tactile numbers and in braille. Audio support allows voters to listen to all candidates through headphones. At the special polling stations, everything has been thought of. For instance, there is also a drinking bowl for guide dogs for the blind and there are guide lines on the ground. Jascha: "People are very happy that they can vote while maintaining voting secrecy, and that they no longer need to authorise someone else to do it for them."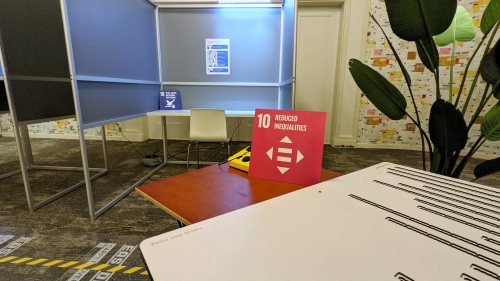 First municipality with a special voting template ('stemmal')
The municipality of The Hague was the first to use this special voting template in 2018. Together with the Eye Association, the municipality developed this unique voting tool. "This tool was created together with the target group, not for the target group. It was not devised by a civil servant sitting behind a desk" says Jascha. Meanwhile, more and more municipalities are following The Hague's example. In the upcoming elections, these type of voting templates can be found in 95 municipalities. Real progress!
On the website https://www.denhaag.nl/en/municipality-of-the-hague/elections, the list of candidates is available in large print and as an audio clip so that everyone can prepare properly. This year, there is also a polling station with a 'Prokkel duo'. This is a duo consisting of a person without and with (mild) mental disabilities who will work as polling station employees. In this way, they show that people are more than their disabilities and contribute to a positive image in society.
Future
What does the future look like? Jascha: "We are constantly looking for improvements. Together with interest groups, we look at how we can reach different target groups better. It is therefore important that we continue to expand our network. We also want to work on lasting solutions in the city. How can we make the city more accessible? Think about permanent ramps. That is a big job involving a lot of different parties".
More information
Want to know at which polling stations in The Hague you will find extra facilities during the upcoming Provinciale Staten and Waterschap elections? Check www.stembureausindenhaag.nl.